Capel Horticultural Society Spring Show 2015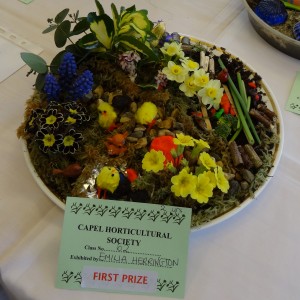 Saturday 11 April started wet, chilly and gloomy but by 2 p.m. spirits were lifted on visiting Capel Memorial Hall for the Capel Horticultural Society Annual Spring Show. Beautiful floral displays, daffodils in abundance, lengthy leeks, amazing home produce all combined with home-made cakes and afternoon teas once again brought the village together for a splendid afternoon.
The Annual Summer Show will be taking place on Capel Recreation Ground on Saturday 15 August. Schedules will be available from capelvillage.co.uk and the local shops in Capel from early June.
Trophies and Awards
| | | |
| --- | --- | --- |
| Greenwood Cup | Most points in Children's Classes, 5 years and younger | Lucas Fairbrother |
| Coke Trophy | Most points in Children's Classes, 6 to 12 years | Charlotte Clement |
| Foreman Cup | Most points in Flower and Vegetable Classes | Chris Coke |
| Wheeler Cup | Most points in Flower Arranging, Cookery + Photos | Dorothy Greenfield and Norman Ede |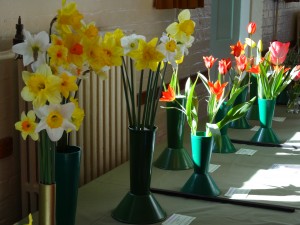 Hall Prize for Class 7, Best Collection of Narcissi   …………   David Hall
Hall Prize for Class 19, Best Bowl of Flowering Bulbs     …………   Not awarded
Hall Prize for Class 23, Best Tray of Seedlings    …………   Chris Coke
Attridge Prize for Best Child's Spring Garden on a Plate
Class 62 (5 years and younger)     ………..   Emilia Herrington
Class 72 (6 to 12 years)     ………… Not awarded
Spring Show Results
| | | | | |
| --- | --- | --- | --- | --- |
| Class | Description | First | Second | Third |
| 1 | 3 Trumpet narcissi | Norman Greenwood | David Hall | Stephanie Jennings |
| 2 | 3 Large cupped narcissi | Neil Carter | Chris Coke | |
| 3 | 3 Short cupped narcissi | Dot Thorp/Norman Greenwood | | Neil Carter |
| 4 | 3 Double narcissi | Neil Carter | Dot Thorp | |
| 5 | 3 Multi-headed narcissi | Dot Thorp | Neil Carter | David Hall |
| 6 | 3 Dwarf or Miniature narcissi | Chris Coke | Neil Carter | Stephanie Jennings |
| 7 | 9 Narcissi | David Hall | Norman Greenwood | Neil Carter |
| 8 | 3 Tulips, one variety | Norman Greenwood | Chris Coke | Neil Carter |
| 9 | 5 Tulips | Chris Coke | Dot Thorp | Neil Carter |
| 10 | 10 Spring flowers | Chris Coke | | |
| 11 | 6 Primulas | Stephanie Jennings | Chris Coke | David Hall |
| 12 | 4 Pansy blooms | Neil Carter | Chris Coke | |
| 13 | 1 Camellia bloom | Alison Clement | Mandy Schryver | Stephanie Jennings |
| 14 | 3 Camellia blooms | Mandy Schryver | Stephanie Jennings | |
| 15 | 3 Flowering shrub/tree stems | Norman Greenwood | Dot Thorp | |
| 16 | 1 Flowering plant | Chris Coke | Dot Thorp | |
| 20 | 1 Cactus or succulent | Daniel Clement | | |
| 22 | Pot of Alpine plants | Chris Coke | | |
| 23 | Tray of seedlings | Chris Coke | Neil Carter | |
| 25 | 3 Sticks of rhubarb | Jo Collinson | | |
| 26 | 3 Leeks | Peter Ede | Dot Thorp | |
| 27 | 3 Vegetables | Rosemary Goddard | Judith Hall | |
| 30 | Floral exhibit "A Spring Day" | Alexandra Fairbrother | | |
| 31 | Floral exhibit "New Hope | Alexandra Fairbrother | | |
| 40 | Jar of marmalade | Peter Ede | Norman Ede | Rosemary Goddard |
| 41 | Jar of chutney | Paul Hinton | Rosemary Goddard | Suzanne Burlinson |
| 42 | Jar of pickled onions | Suzanne Burlinson | | |
| 45 | 5 Easter biscuits | Jo Collinson | James Collinson | |
| 46 | Simnel cake | James Collinson | Norman Ede | |
| 47 | 5 Pieces of traybake | Rosemary Goddard | Mandy Schryver | Julie Hinton |
| 49 | Loaf of bread, machine made | Norman Ede | | |
| 50 | Loaf of specialist bread, machine made | | Norman Ede | |
| 52 | An item of handicraft | Margaret Greenwood | Liz Arthur | |
| 60 | Decorated egg         5 years and younger | Lucas Fairbrother | Alyssa Chilvers | Amelia Chilvers |
| 61 | Easter card                                 " | Amelia Chilvers | Alexander Chilvers | Lucas Fairbrother |
| 62 | Spring garden on a plate           " | Emilia Herrington | Oscar Fairbrother | Lucas Fairbrother |
| 63 | Decorated spring hat                 " | Lucas Fairbrother/ Oscar Fairbrother | | |
| 64 | 5 Decorated small cakes           " | Lucas Fairbrother | Oscar Fairbrother | Emilia Herrington |
| 65 | Drawing or painting "Springtime" | Oscar Fairbrother | Lucas Fairbrother | Amelia Chilvers/ Alexander Chilvers |
| 70 | 5 Easter bunny biscuits           6 – 12 years | Charlotte Clement | Amy Hinton | |
| 71 | Pop-up Easter card                     " | Amy Hinton | Angus Hinton | |
| 73 | Decorated spring hat                 " | Laura Pusey | | |
| 74 | 5 Decorated small cakes           " | Angus Hinton | Charlotte Clement | |
| 75 | Drawing or painting "Springtime" | Charlotte Clement | | |
| 81 | Colour photograph | Dorothy Greenfield | Debbie Styles | |
| 82 | Capel Parish photograph | John Morgan | | |
| 83 | Photograph of a winter or spring scene | Dorothy Greenfield | | |
| 84 | Photograph with person as focus | Dorothy Greenfield | | |