Gambit
Our film for March is a remake of the 1966 film, of the same name, that starred Michael Caine and Shirley Mclaine.  In this one the roles are taken by Colin Firth and Cameron Diaz with Alan Rickman playing the bad guy.  It is directed by Michael Hoffman and was released in the UK late last year.  The script is by the Coen brothers and is played for with broad humour.  The art gallery at Compton Verney House was used for filming some scenes.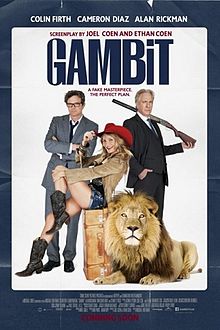 As usual, we will be at the Capel Village Memorial Hall, doors opening at 7.30 pm for an 8 pm start.  Tickets are sold on the door at £4.00 per person, cash only.  The date is Tuesday 5th March for Gambit.
In April we will be showing the BAFTA award winning – Argo.