Hyde Park on Hudson
In June 1939, King George VI and his wife, Queen Elizabeth, made a visit to the United States, during which they stayed at President Franklin D. Roosevelt's country estate in Hyde Park, New York.  At the same time, the President was growing closer to his sixth cousin and suspected mistress, Margaret (Daisy) Suckley.   Roosevelt hoped he could use the visit to, in part, to bolster American support for the United Kingdom on the eve of World War II, which broke out less than three months later.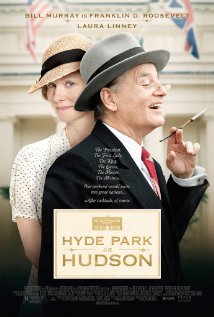 Hyde Park on Hudson is a 2012 British biographical historical comedy drama directed by Roger Michell. The film stars Bill Murray and Laura Linney as Franklin D. Roosevelt and Margaret "Daisy" Suckley, respectively. It was based on Suckley's private journals and diaries, discovered after her death, about her love affair with and intimate details about President Roosevelt.
As usual, doors will open at 7.30 pm for a show at 8 pm in Capel Village Memorial Hall.  Tickets sold on the door are still only £4.00.  We look forward to seeing you then.